A HAPPY AND PROSPEROUS NEW YEAR TO YOU ALL!
KEEP THE HOME FIRES BURNING!
Well it wasn't a white Christmas after all - but it was windy and wet and it looks like it's going to continue during January - so if you have not yet topped up your log store - now is the time to do it!!
Logs are still one of the most cost effective ways of keeping warm and our hardwood logs are still great value!
We can now supply bulk bagged logs from as little as £65 collected or £75 for local delivery. Transit lorry loads, approx 3 ½ bulk bags are available at £225.
Plus new for this season - Kiln Dried Logs Now Available!
All our logs are well seasoned however during this wet weather they inevitably get a little damp if you don't store them in a dry place - one of our log stores for instance. But because they are well seasoned they will still provide a warming fire even if they do get damp - the secret is to light your fire properly........here a few tips!
Use paper or fire lighters and some kindling to start off.
Add small split logs until the fire catches.
Only add larger logs once the fire is established.
Put a few logs for the next fire in a basket and place close to your fire, (not too close), to assist with the drying process.
These tips should ensure your fire will light and burn more efficiently.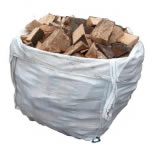 New for this season we are also able to supply Kiln Dried Hardwood Logs at what we believe is one of most competitive prices available! Our Kiln Dried Logs are dried to an average of less than 20% moisture content making them ideal for wood burning and multi-fuel stoves. Their low moisture content ensures that these logs burn efficiently making them a cost effective alternative to other seasoned logs. It also means that we can now supply dry and ready to use logs all year round whatever the weather throws at us!
Bulk bagged Kiln Dried logs are available at £100 collected or £110 delivered locally. We are also able to supply a crate, (approx 2 bulk bags) of logs for £185 delivered or £175 collected - It's also worth noting that these crates make superb log stores!
We also supply large bags of kindling at £5.00 per bag and both traditional house coal at £7.99 per 20kg bag or smokeless coal at £10.99 per 20kg bag, these can be delivered with your log orders or collected from our Holwell site
Also remember if your fences have been damaged in these high winds - we have a wide range of panels and fencing in stock.
Email us at sales@valleysawmills.co.uk
Call us on 01373 836 375 or better still come and see us here at Holwell!
Welcome to Valley Sawmills, one of the largest suppliers of sawn and pressure treated timber in Somerset.
Situated on the outskirts of Frome, in a valley on the main A361 at Holwell, near Nunney Catch roundabout, we supply timber, fencing, gates, garden furniture and the highest quality timber buildings delivering throughout Somerset and the surrounding counties to both trade customers and the general public.
Throughout the year we run monthly special offers on a wide range of products – if you would like to receive details why not join our mailing list or if you have any enquiries regarding our products or are looking for help fill in our simple enquiry form and we'll get back to you with all the necessary information by return.
At Valley Sawmills we believe we are big enough to offer an unrivalled choice of timber and related products and are yet small enough to be able to offer a highly personalised service to all our customers both large and small – so why not visit our Holwell site and see Somerset's widest range of timber and related products for yourselves!